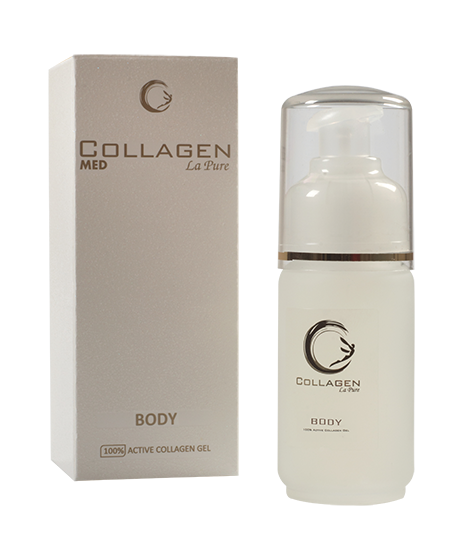 A unique bioactive collage gel for Body Care.
Collagen La Pure Body
An active transdermal gel for all skin types, designed for daily skin care. The product has a deep moisturizing and firming effect on the skin of the whole body. It is intended for dry, excessively flaky skin that is prone to irritations and allergies. It has a soothing effect on psoriasis and atopic dermatitis symptoms. Supports the treatment of varicose veins, deficit tissue, cellulite and stretch marks. It is recommended for use with iontophoresis and sonoforesis treatments. It smoothes scars and regenerates cracked heels. The product is completely hypoallergenic with a wide range of applications based on natural fish collagen.
Method of a application:
On freshly cleansed, damp skin of the body, (after warm shower or bath) apply a small amount of the gel and pat it in gentry with fingertips. Absorption time varies from 10 to 15 minutes. Once it has absorbed completely, apply your favorite cream or body lotion.
Available packages of Collagen La Pure Body: 50 ml, 125 ml.
massages of any type, among others: cosmetic, energizing, relaxation, dermomassages

ultrasonic liposuction

iontophoresis and sonoforesis treatments, as a serum and conductive gel

collagen baths

deep moisturizing and firming of the skin of the whole body

increased blood circulation and venous circulation, elimination of the problem of varicose veins
firming the bust

relief of psoriasis and atopic dermatitis symptoms

relief of sun and thermal burns

smoothing scars

supplementing a deficit of connective tissue in the case of cellulite and stretch marks